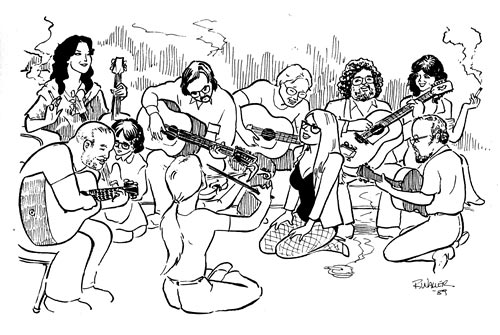 For this Thanksgiving, I offer up something from my archives. Two songs from Waller and Worley cca 1990-1991.
The first is Kate's version of Bob Franke's beautiful "Thanksgiving Eve." This was one of our favorite pieces, and here it is being performed live in the basement of Calgary Lutheran Church in south Minneapolis, known then as "The Other Toad Hall." Reed Waller and Kate Worley in Concert, as one of a series featuring local performers organized by our dear friend Howard Ashby Kranz.
Please enjoy this on your holiday.
CLICK HERE TO HEAR THE SONGS
Thanksgiving Eve
Whippoorwill
The second is our version of Robin and Linda Willams' "Whippoorwill," one of our favorite duets. This recording is part of a home recording done by Mike Levin on his portable DAT recorder, one night after I was diagnosed with cancer. Just in case, he said. The recording was of Kate and me, plus old bandmate Allan Standish, singing some of our favorites and originals.
I will be producing a restored version of this home concert tape from 1991 and hope to have it ready in time for this Christmas.
Happy Thanksgiving!
Reed Waller
I guess it's okay now to report sadly that Kings in Disguise and later Omaha the Cat Dancer writer Jim Vance passed away June 5, after a long and difficult battle with cancer.
Jim and Kate Worley were married about 10 years when she passed away in 2004. At that time she and I, with agent Denis Kitchen, were negotiating on a new publication of Omaha the Cat Dancer with 150 new pages to complete the story. Jim took up the writing duties using Kate's copious notes, and we worked hard together, while he also worked on the Kings sequel, On the Ropes. Both were finished in 2013 and Omaha's final volume debuted at the 2013 San Diego Comicon.
Jim's wife Jodi Berg has looked after Jim during this time and and her daughter Kaitlyn and Jim and Kate's children Jake and Sarah are now in her care and doing remarkably considering they all have fought to overcome disabiities.
There is a GoFundMe project being started for Jo and "her" children to save their house. Please go there and read more about the amazing story, and consider a donation.
Please follow the link and read the story.
NEW SONG - I NEVER FELT THIS WAY BEFORE!
Here it is! Nellie sings soprano, and stops the show with a high G!
I noticed back in 1999 when i started using VocalWriter that when i bounced it to audio, nellie's voice sounded just great on good headphones, but when i listened to them through the cheap speakers, all her consonants were muffled and it was impossible to understand what she was singing. Why? And why doesn't this happen to "real" singers?
At that time i used an audio editor called SoundEdit 16 made by Macromedia. It had a filter called "sharpen" that fixed the problem, but I never did understand what it did. And when i came back to work on Nellie a couple of years ago, that application no longer existed, and I had no idea what to do to "fatten" Nellie's voice.
I suspected an Aural Exciter was what i really wanted, but i had no idea where to get one, what they did, or how to use it. So I've been adding an equalizer to Nellie's voice track with a tall spike at around 4500 (about where Nellie's 'S's' are). That almost works, but if the spike is too high (high enough to work) it adds so much noise to the treble end it makes her sound like a hissing snake. And unless the voice was overdriven, I couldnt get the crisp consonants I needed to be audible on all systems.
Today (3/25/17) I finally found an Exciter (a VST/AU plugin) that does the job, and is simple enough for even me to operate. I cranked the high all the way up and it worked.
Once i had the secret ingredient, I worked more, and studied more, until I found a combination of things that finally enabled me to produce a something-like-industry-standard mix that played back well with full sound on every system i tried it on. I had just about given up on that. See what you think.
I began by mixing the song at low level, using the muddy computer speakers. That kept me from making the mistake of producing a master with too high a dynamic range. In the cheaper speakers, the quieter instruments just dropped out. (This was a big problem with "Clueless," which i mixed using hi-fi headphones)
Then I added the exciter to nellie's voice, being careful also to equalize her treble range nice and evenly and giving her lots of middle bass.
Then i performed a "hole-in-the-middle" EQ on the entire song, damping the midrange which is usually all you hear from the cheap speakers, and also damping the lows from 100Hz down, and then compressed it (using peaks), then brought the volume up to maximum.
At last i once again had what i had 20 years ago, a good mix suitable for all systems. Today, after years of trying and getting wildly varying results from one playback to another. I was about ready to give up.
Please enjoy.
NEW SONG - BOPPIN' STRIP
A break in the Broadway action to bring a soft moonlight song.
This tune was written many years ago, but wasn't finished in time for the Champagne album. I completely forgot about it until i played a draft of it by accident while rearranging my files.
While working on updating my old DAW files, I accidentally turned the aural exciter up to a zillion and blew out the built-in speakers on my computer. I had to order some external speakers, so I was careful not to buy anything too good. The whole point of the exercise is to get a good balance of good and bad speakers to test the mixes on. Now I think I have a system that I can work with with some confidence.
The "new" song (actually 18 years old) was a good opportunity for me to work with my new setup, and apply the things I've learned in the last year of trial and error. Mixing is part science and part art, and I still don't know much about either of them. But with this track, I think I'm getting closer to being able to produce something that's close to industry standard.
It was a pleasure to dig up this old number and put the polish on it, and even if it still isn't really finished (not much in the way of dynamics) it does have a good balance and I made good use of the exciter to bring out the guitar.
Please enjoy.
NEW SONG - CLUELESS!
For a while I wasn't sure I was ever going to achieve enough competence in enough areas to complete this tune. Hundreds of hours of listening to vintage jazz and an equal amount of time studying horn voicings, midi controllers and automation, counterpoint, and mostly just "How do you do this?" Even if you have great software and good virtual instruments, you still have to create your own procedures, and solve your own problems.
 Some of the harmonies in this song may seem familiar, for good reason, because I stole the descender partly from "Can't Take My Eyes Off of You" and also from Armstrong's "Sleepy Time Down South." Steal from the best. But i did do something new with it.
Things are a lot easier with a keyboard. All the old Nellie music was 100 percent hand-drawn on piano roll. Whew! But it was time consuming, and the only way to be sure to get exactly the right rhythm in something, is to play it and record it.
I'm not sure where this song goes in the love story of Nellie and Danny, but most relationships have their rocky points, mostly because most relationships contain a man.